Hehe..this weekend is the biggest proof that i'm getting old..because i spent quite some time with my bro's frens. They're all younger than me by 2years...goodness..

On friday night, after work, I went out with my brother's friends to watch "Click". There were about 9-10 of them, including me of course =) I dressed up a little cause it felt a long long time since i went out with ppl other than my parents..so some how i felt happy. The change was something inviting to me. I even put on some make-up! Heheh =)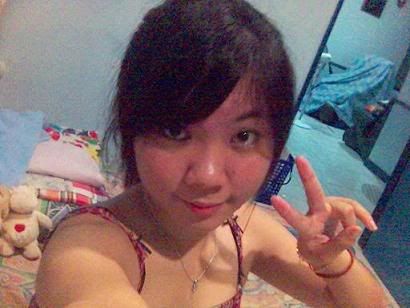 do i look cute? (hoho..another milestone for me the great triple S..hahaha..kidding, or mayb i'm not kidding;)

Anyways, "Click" is so-so-super-duper nice! I mean, its got loads and loads of humour..(with a little dose of 18sx jokes too) And in the end, it has a really touching moment which made me cry a little..*sobs* when py told me she cried when she watched click, i was shocked! How can a comedy make u cry? well..seems like it does. =)

Then, we went mamak at a stall which i havent been too since form 5..-_-" man..i felt so old. But when they all started talking, i found myself blurr. Why? cause they were talkign about some jokes by some guy whom i dunno. Then, this girl asked my bro, "how come ur sis so innocent one? not good u know..must teach her

ma

"

Okie..so mayb i'm a little innocent when it comes to jokes..-_-"

The next day, i tagged along with my bro's and 3 of their guy frens to go jogging at taman rakyat. Its a hill near my place, but i've never been there. Here's some pics of the place..




quite nice huh?
we jogged ( only a few mins) up to the highest point of the hill, and i took this pic (poor quality though..cause my phone's camera is erm..not that good)





after that hard work, i woke up today with a muscle ache on my thighs..i'm so so old.