Yeah! After working for only 3days, i got a day off.
Hahaha..although i'm really happy to be able to wake up later in the morning, I cant help but to think that this job isn't getting me anywhere. -_-"
I mean like, the boss asked me not to come on friday(which is today) because my colleague isn't coming, and she herself wont be around to guide me. So just like that i'm given an off day. Hmmm..than my parents kept asking me whether I learnt anything during my 3days there.

"Learn what?"

Duh..i had no answers for their question. All I did in the office was updatethe daily changes in the market namely, the prices of unit trusts, the indices of the world market, and oh..i even hv to update the prices of world currencies too.

So, what did I learn? Nothing much i would say. I think i'm the kind of person who needs serious scolding to move an inch. Although i'll get mad if someone scoldes me. How ironic. -_-''

Well, since i'm "so" free, I slept like a pig from 12.00pm to 10.00 am today. Haha! It's been awhile since i slept that much. Initially i had intended to wake up earlier to do some cleaning in my house, but the weather was so cooling that I can't resist the temptation to sleep longer.

Once i woke up, i called a office to ask about a part-time job in sept. It's only a one week stint. And the pay is RM6/hour. And food and uniform is provided. So there you go. I was absolutely tempted to join. Unfortunately the office is so far, around KLCC. (from my place to KLCC by public transportation should take around erm..80mins? i dunno..havent really calculated the time b4)

But, i'll definately go for it, mayb sometime erm..next week? i'm not sure..i'll see how it goes. Maybe i should go to the office today since they only open for application during office hours. -_-" Nvm, time will take its course.

After that, the kay-poh me, decided to check out my friends blogs. Wa, from one friend to another. And realised quite a number of ppl from INTEC blog. I think i'm gonna add them in my list soon. Hehe =)

So, as i looked through[

LynnXuan's

]blog i realised that she mentioned me. How sweet =) Hehe..actually she mentioned about the story of the swans which i told her about. Actually, I heard that story from my Sibu friend.

When I was holidaying in Sarawak, I noticed that every town or city in Sarawak has their own icons. These icons are made up into large statues which stand almost everywhere in the town. For instance in Kuching, u can see statues of cats around. (i dont hv the pics with me..)
and in Sibu u can see swans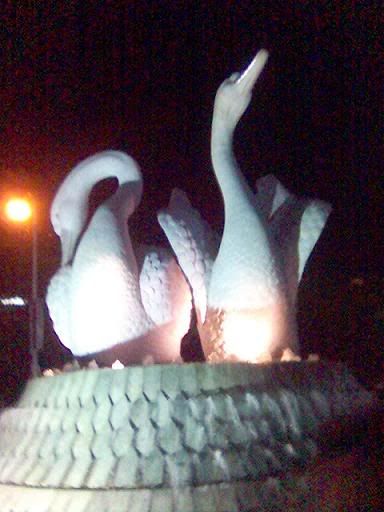 While in Miri u can see seahorses.(again i dont hv pics..)
Anyways, I heard two different versions on why Sibu choose the swan as their icons.


Version1

Sibu used to be an "ugly" town, but after upgrades, Sibu turned into a beautiful town, which is similar to the story of ugly duckling. ie the ugly duckling turned into a beautiful swan.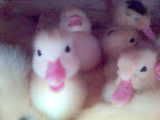 the supposedly ugly duckling.

version 2
A year back, there were lots of swans walking around the streets of sibu, thus the town council picked swan to represent Sibu -_-"

somehow this story seems a bit unreal. (I prefer the story of the ugly duckling.)